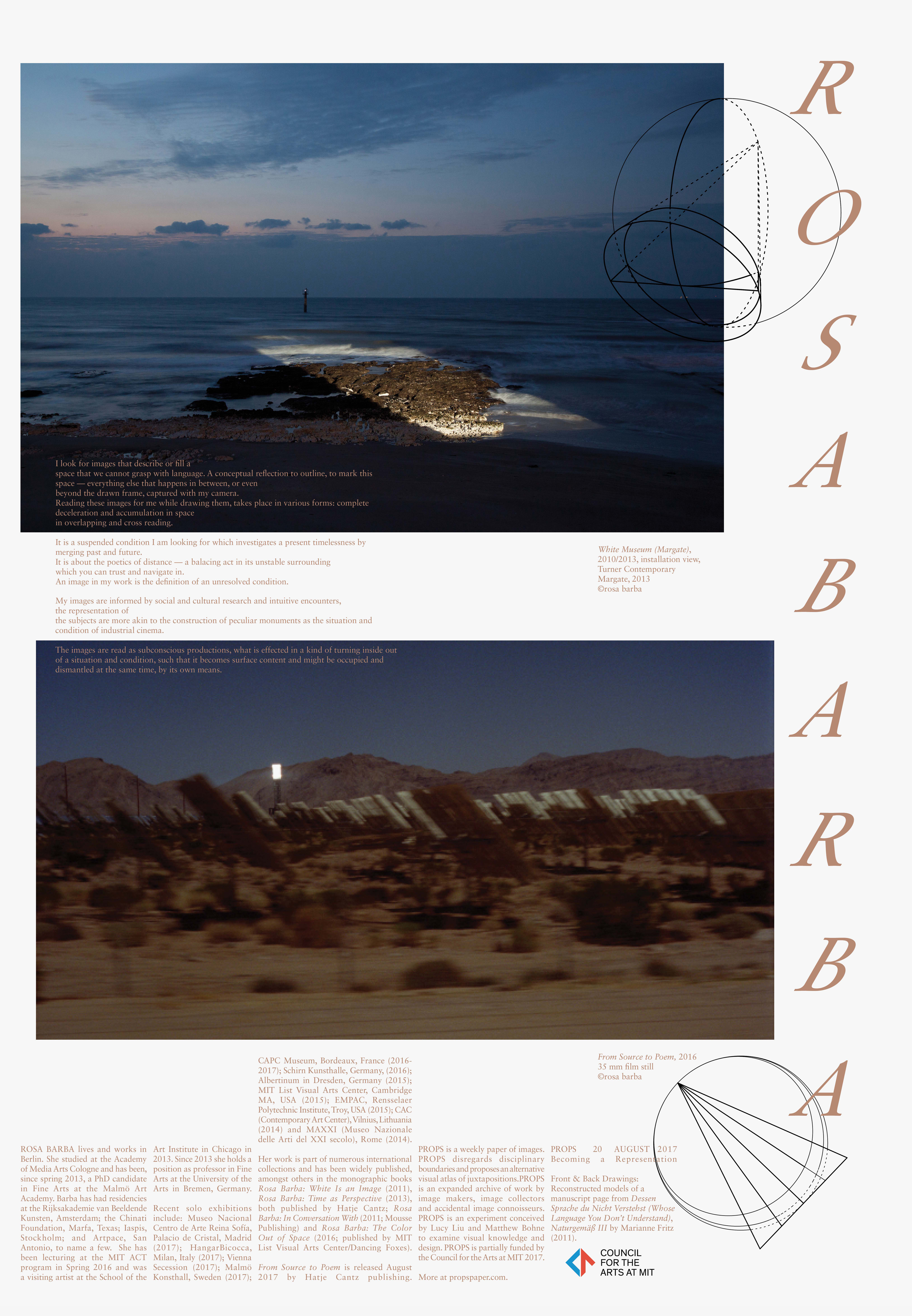 20 BECOMING A REPRESENTATION
ROSA BARBA︎︎︎
I look for images that describe or fill a space that we cannot grasp with language. A conceptual reflection to outline, to mark this space — everything else that happens in between, or even beyond the drawn frame, captured with my camera. Reading these images for me while drawing them, takes place in various forms: complete deceleration and accumulation in space in overlapping and cross reading. It is a suspended condition I am looking for which investigates a present timelessness by merging past and future. It's about the poetics of distance — a balancing act in its unstable surrounding which you can trust and navigate in.
An image in my work is the definition of an unresolved condition.
My images are informed by social and cultural research and intuitive encounters, the representation of the subjects are more akin to the construction of peculiar monuments as the situation and condition of industrial cinema. The images are read as subconscious productions, what is effected in a kind of turning inside out of a situation and condition, such that it becomes surface content and might be occupied and dismantled at the same time and by its own means.
---
ROSA BARBA︎︎︎
lives and works in Berlin. She studied at the Academy of Media Arts Cologne and a PhD candidate in Fine Arts at the Malmö Art Academy. Barba has had residencies at the Rijksakademie van Beeldende Kunsten, Amsterdam; the Chinati Foundation, Marfa, Texas; Iaspis, Stockholm; and Artpace, San Antonio, to name a few. She has been lecturing at MIT, ACT program in Spring 2016 and was a visiting artist at the School of the Art Institute in Chicago in 2013. Since 2013 she holds a position as professor in Fine Arts at the University of the Arts in Bremen, Germany.
Her work is part of numerous international collections and has been widely published, amongst others in the monographic books
Rosa Barba: White Is an Image
(2011),
Rosa Barba: Time as Perspective
(2013), both published by Hatje Cantz;
Rosa Barba: In Conversation With
(2011; Mousse) and
Rosa Barba: The Color Out of Space
(2016; MIT List Visual Arts Center/Dancing Foxes) and
From Source to Poem
( August 2017, Hatje Cantz).