EDUARDO REGA︎︎︎
In the last couple of decades, architecture representation has seen the proliferation of glossy hyperrealistic renderings usually outsourced by architecture offices to be developed by rendering companies. Today's most consumed images in architecture are renderings that follow a particular stylistic trend across the most famous and commercially successful architecture offices, a trend that has made its way into architecture schools. Pioneering architecture offices of the 80s and 90s, at the time developing a critical and identifiable architecture representation project, have succumbed to today's dominant rendering styles making it hard to identify what images correspond to what offices. The goal of these images is usually to sell and visually present the architectural idea or vision as a complete and ideal object of trade.
Images have increasingly become one other vehicle to transform ideas into commodities and not to contribute with knowledge that can educate, inform and be discussed and disputed in public. Images in architecture research and design can respond and contest this current trend. The word 'image' is also an impression that something presents to the public (as in public image) and that enables critique and questioning of a particular position or state of affairs, publicly. Can images in architecture be themselves sites of contestation and address, include and embody the public? Can images provide tools for, and become sites of, spatial independent diplomacy?
The built environment is co-produced by a multiplicity of actors under a particular regime which selects those who have a part in it, and those who don't. Under typical banking-real state regimes, run by businessmen and bureaucrats, those included settle on deals that involve: an F.A.R, a program distribution, a license, a cost, an interest rate, a price, a profit, an image. Can architecture disrupt such closed regimes of exchange? Can it mobilize concerns, claims and demands of those typically excluded and whose lives are most affected by the deals of politicians and financiers? Can it contribute to the critical transformation of the built environment by opening it up to dissensus? can it visualize and offer spaces for parleys among enemies at war? Can architecture images be devices of radical translation between speakers in disagreement and trigger a continuous state of spatial diplomacy?
Our recent architecture research and design projects aim to partner with and amplify the voices of those who dissent, the opposition's voice. By focusing on social mobilizations against capitalism, colonialism and human rights violations, we experiment with ways in which architecture images can learn from, and contribute to their struggle and claims. In research projects we aim to render visible the architectures and urbanisms of progressive activist groups filling in the humanitarian gaps that political structures of nation states deliberately fail to cover. In design studios we learn from current and past struggles for justice to propose urban architectural interventions of resistance and cooperation in the protection of human rights and the right to the city. In design-build workshops we partner with grassroots organizations that foster participation of communities through independent and self organized projects in public space.
Movement as Civil Disobedience. Mapping Migration and Solidarity in Lesvos Island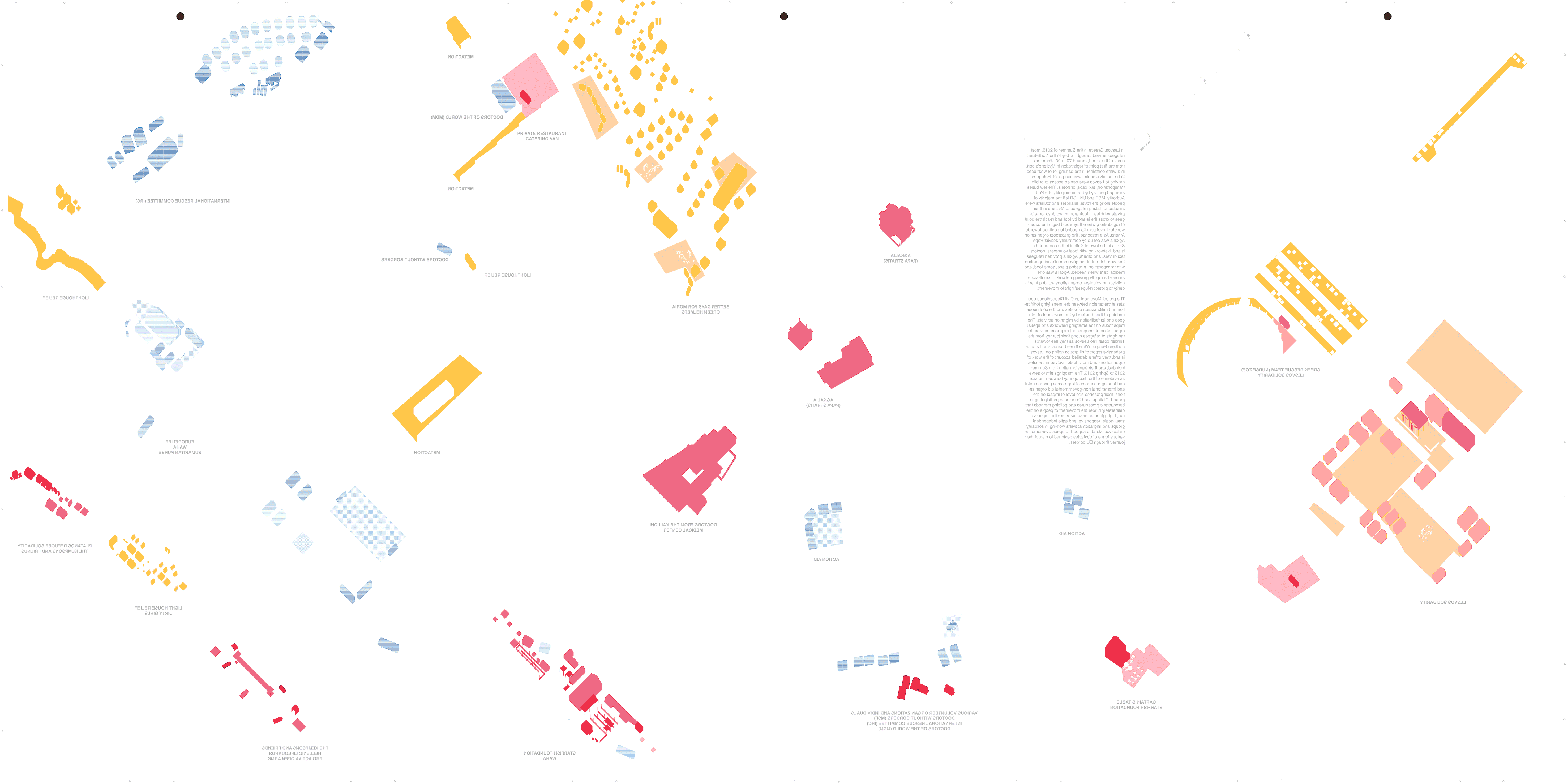 Project led by Nora Akawi, Nina Kolowratnik, Johannes Pointl and Eduardo Rega
The maps focus on the emerging networks and spatial organization of independent migration activism for the rights of refugees along their journey from the Turkish coast into Lesvos as they flee towards northern Europe in August 2015, Fall 2015 and Spring 2016. Distinguished from those participating in bureaucratic procedures and policing methods that deliberately hinder the movement of people on the run, highlighted in these maps are the impacts of small-scale, responsive, and agile independent groups and migration activists working in solidarity on Lesvos island to support refugees overcome the various forms of obstacles designed to disrupt their passage through EU borders.
Parque del A.M.O.R en el barrio del Pozon, Cartagena
Project led by Neighborhood Association AMOR, NGO FEM, Essential and PennDesign's Colombia Summer Abroad Program (run by Eduardo Rega and Juan Rincon)
The goal of these manuals is to design and build prototypes using modular systems that would reimagine typological possibilities of a park while responding to the goals and desires of the Neighborhood Association A.M.O.R in the Colombian rural/urban scenario of El Pozon in Cartagena. The manuals are completed, corrected and expanded on using the local ambitions and knowhow. The manual offers construction guidelines to build different versions of parks by defining components and their multiple possible combinations. The larger ambition of our manuals is to support the construction of a larger network of urban self-organized parks across the most impoverished neighborhoods of Cartagena's outskirts.
---
EDUARDO REGA CALVO︎︎︎
is an architect, urban designer and researcher based in New York. He is a graduate architecture faculty at the University of Pennsylvania Stuart Weitzman School of Design, where he teaches history/theory seminars, design studios and runs a summer program in Colombia. He has previously taught at Columbia University, RISD, Parsons and Pratt. His most recent project,
Architectures of Refusal
aims to compile an atlas of social mobilization against capitalism, colonialism and human rights violations by uncovering their spatial manifestations, urbanisms and architectures.
The Agency of Autonomy: Tools for an Architecture of Translation
is the title of his PhD dissertation at ETSA Madrid, currently in progress. He holds a professional degree in architecture and urbanism from the University of Las Palmas and a masters of science degree in advanced architectural design from Columbia University. His research and design work focus on architecture's capacity to translate, operate in and contribute to insurgent social and political movements.